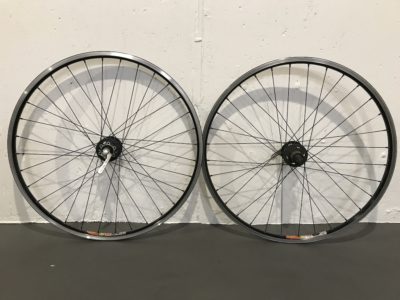 1st time I bought something on Pinkbike
So, 2018 sucked for me as far as going mountain bike riding like I planned to do. It really did.
The year was starting out great and I was in great shape too. My confidence was high as well riding the Enticer trail at Swasey Recreation Area just about everyday with the BigHit in 2017 and to the point of sending it over the BIG GAP at the bottom. Feeling good down the trails, for sure.
But one fateful day, April 14, 2018 I went OTB, fractured my shoulder and that ended my 2018 MTB season.
It was a knarly crash! I was hurting and I was able to get myself to safety right before another rider showed me "how it was suppose to be done" just 3 minutes after my crash. Good thing I wasn't KO'd at this time. (the crash heard around the world 12-21-17, will post later still have video)
At first I thought it was my colllarbone. I've done that before, same side too. So I slinged my arm up and hobbled down to the car.
Down at the car I met up with 2 younger riders coming off the Enticer too. I asked if they would help me out by taking my shirts off. I follow them on Instagram now. Thank you guys.
So, I called my wife again with some recent news and told her to meet me at the emergency room again. I have done this a few times, accidents happen as you progress in the sport of MTB.
2 months later I got the release from the doctor and immediately went to an MTB event, the Vortex at Mt Shasta ski park in hopes for entering it, NOT!
We arrived there and pulled out the bikes, pumped up the tires and without checking the bike over, I rode off. WOW! My wheel was bent, I thought.
One of my MTB friends took a look at the wheel for a little bit and gave me the bad news. I wasn't going to be entering the race that day but I will do a few runs down the mountain for sure!
It's a good thing I didn't have a good bike because I was still not fully healed from the crash and I needed to take it easy for awhile. Ride for another day.
At home, I put on my other front wheel on the bike (Thinking it was my front wheel) and went for a test run. Oh no! My bike had been damaged from the April crash and it's the lowers of my forks(Marzocchi 03′ MXComp ETA).
This means that I need to either buy a set of forks or buy a new bike. I have had the same bike for 15 plus years. Buying forks costs money, a lot. I NEED A NEW BIKE. but I need a fork and a front wheel too. Must keep the hardtail going for fundamentals of riding and jumping.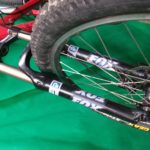 Luckily, I was able to find a used fork that would fit my bike (Santa Cruz Chameleon 2004) and now all I need is a set of wheels. My boy bought a bike on Pinkbike so I have been looking for bikes because I can't pay retail and still saving for the bike and know how much I want to spend. But for now I bought a set of wheels from a guy in Connecticut and they should be here Saturday.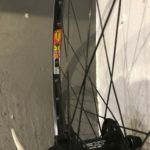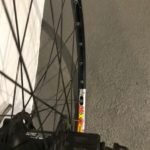 Sunday will be an epic day of riding and will be doing video for sure. These wheels will compliment my hardtail very well. Looking forward to the day.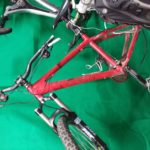 Please follow and like us: